guitar amp
2004 Fender '65 Deluxe Reverb Reissue
gutted and completely rebuilt using a Doug Hoffman designed AB763 circuit board, populated with high-grade components by Robert at the Airtight Garage in New Iberia, LA, Mercury Magnetics transformers, select vintage nos tubes, including a 1966 Mullard 5AR4 rectifier, driving a Weber 12" alnico speaker, all housed in an open-back antique pine cabinet hand crafted by Bob Burt.
Additional closed back extension cab, also made by Bob Burt, loaded with Weber 12" ceramic speaker.
Dr. Z maz jr
18 Watts, Class A
Tubes: 2 - EL-84, 4 - 12AX7, 1 - 12AT7, 1 - GZ34
12" celestion speaker

Victoria 20112
14 Watts, 5E3-type circuit
Class A cathode bias push-pull operation
Tubes:1-5Y3/GZ34, 2-6V6GT, 1-12AX7, 1-12AY7
Speaker: 1-Jensen P12Q
Weber Mini Mass amp attenuator
pedal effect
David Barber Electronics LTD
David Barber Electronics Direct Drive SS
David Barber Electronics Tone Press
Robert Keeley Compressor
Robert Keely Time Machine
Chad Matthews Modifications Signa Drive
Chad Matthews Modifications Deelay
Carl Martin DeLayla XL
MXR Carbon Copy analog delay
Way Huge Pork Loin
Ernie Ball Volume Pedal
Vox Wah
bass amp
TC Electronics RH-450 bass amp head
Epifani UL-310 ultra-light 3 x 10" bass speaker cab
electric guitar (top row)
2008 Parker Fly Mojo, natural mahogany, switchable single/double coil seymour duncan pickups, piezo transducer, 5 lbs

2002 Gibson Custom Shop Historic 1957 Reissue Les Paul, gold top, natural mahogany back and sides, graph tech nut

2006 Fender American Stratocaster, Candy Cola, rosewood fretboard, Lindy Fralin pickups, Schaller locking tuners, graph-tech nut, mint green pickguard

2005 Gibson Custom Shop CS336, plain maple top, 2 color vintage sunburst, aged binding, graph tech nut, tone pros bridge w/ graphite saddles

(bottom row)
1999 Fender American Telecaster, 3-color sunburst, maple fretboard, Rio Grandes pickups, parchment pickguard, graduated height tuning machines

2002 Dearmond M77T, moonglow, aged binding, rosewood fretboard, Dearmond 2K single coil pickups, bigsby style trem tailpiece

1999 Yamaha AEX 1500 hollow body electric guitar, figured sycamore top, maple back and sides

2005 Ed Roman Steinberger Legend, black, solid mahogany body, composite neck and fretboard, switchable single/doube coil seymour duncan pickups, floyd rose locking trem system

(recently added)
2010 Gibson Custom Shop 50th Anniversary 1960 Les Paul Standard
Version 1, Heritage Cherry Sunburst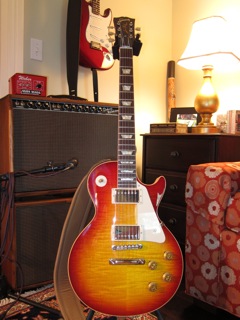 electric bass
2009 Warwick Corvette $$
2004 Warwick Thumb Neck-Through
1979 Ibanez MC-800 Musician Bass, natural
1965 Epiphone Newport Bass, wine red
acoustic guitar
2000 Martin D-18GE 1934 steel string
2002 Martin SWOMGT steel string
2004 Alvarez RD20S steel string
1990's Takamine CS132S nylon string

acoustic bass
1998 Aubert R22, Romania, solid spruce top (originally)
This bass was broken to bits in 1999, and rebuilt over time. Primary repairs performed by Steve Gillham of Hillsborough, NC. Final repairs and adjustments by Gary Upton of Mystic, CT. Amazing overhaul resulting in a greatly improved bass.

mandolin
2004 Weber Yellowstone, nitrocellulose lacquer